Steps for installing the Sproul printers on your computer
On the computer you want to install the printers on, open a browser window and go to our PaperCut Server. Contact us for the download address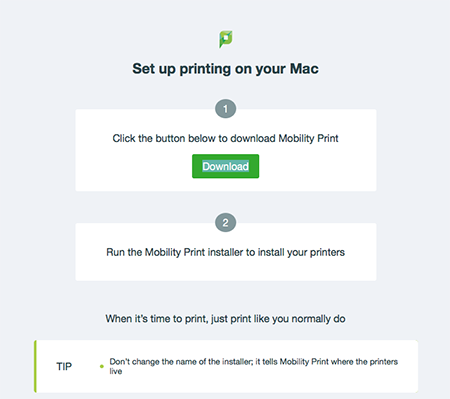 Select the Download Button

The installer should be in your downloads folder, Double click to open the file

Double click to start the install process, open the PaperCut Mobility Print Client

Select continue

Select continue again

Select agree

Choose install
At the prompt enter in your computer's username and password

Then close when the installation is complete.

You can confirm the new printers by going to system preferences, printers

Important!  The first time you print to the printer it will ask you for your UC Davis login id and pass phrase. For the username enter 'ad3\yourloginID' and your Kerberos passphrase. Make sure the 'Remember this password in my keychain' check box is selected so it wont ask you every time you print.